I bought a new GPS the other day a Garmin GPSMAP 62st that I thought I'd do a quick review and highlighting some stuff that will be useful to me. I'm not going to do a deep down review on the GPS, you can find those already on the web and YouTube.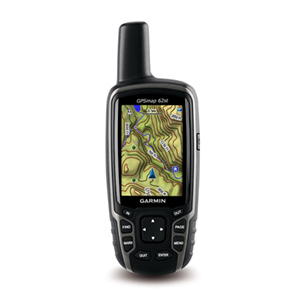 The newly designed GPSMAP 62st handheld navigatorfeatures a 3-axis tilt-compensated compass, a barometric altimeter, preloaded TOPO 100K maps and supports custom maps, BirdsEye™ Satellite imagery (subscription required) and photo navigation. Rugged and waterproof, GPSMAP 62st employs a quad helix antenna for unparalleled reception, has a high-speed USB connection, a sleek new design and connects wirelessly to compatible Garmin handhelds.
This little device is quite nice actually. I've only handled road GPS' before and a Foretrex or two and this is a whole nother level!
One thing that I think I'll use a lot is the possibility to add your own custom maps as an overlay on top of the basemap. This gives me the possibility to put a map from an area in to the GPS so I can see where the pre.defined grids are and use those as reference points. The topo map in the 62st (T for Topographical) is still in use so you can see trails and other stuff that might not be marked on your custom map. The custom maps are easily sent to the GPS via a .kmz file that you generate in the free Google Earth application (Guide here!)
If you're lazy or just want the Google Earth look on your maps you can subscribe to BirdsEye so you can download high res photos of your area of interest. I've tried the demo version and it is good! I think I'll get that too because it's only about 20USD for a year and every "photo" you download you "own" as long as you don't delete it. Pretty smart!
Some other nice features in the GPS is that almost every page/view is customizable so that you can change what info you want to show. You can also have different views depending on what Profile you're using at the moment e.g. Geocaching, Recreational etc.
On thing that I would like to have the ability to change is how fast it jumps to the next page when pressing the "Page" button. Now you have to wait for some time before it changes page or you have to press "Enter" to go there instantly. But requiring satellites is super fast and the accuracy is great that's what counts in the end.
Also the new carabiner for securing the device is nice and sturdy but it's a tad too big. I like the older ones, 60-series, where you had a small hole next to the antenna so you could secure the GPS via a carabiner or the way I like it via paracord so it's easier to attach to molle, backpacks or whatever and you can set what ever length you want on the string. Now you have to unclip from the carabiner or pul down on the GPS and it'll come off but then with big gloves on (or clumsy hands) it's pretty easy to drop in the snow, off a vehicle, bike etc. Though it's still possible to remove the carabiner and put some paracord there instead it still is bulky because of the clip itself. But, I guess it's a smart solution so you can attach the GPS to different kinds of mounts. (It does have a hole at the bottom of the GPS for inserting a lanyard of some sort but I still liked it better on the older version)
You also get Geocaching capabilities via Garmins own knock off site http://www.opencaching.com/ but also via the original Geocaching.com. The Geocaching mode in the GPS is nice and clean and if you have a Premium account at geocaching.com you get all the info you'd get from your phone with their application such as hints, logs etc. I do have some problems with the function "Send to GPS" so I have to download the .gpx file and drop it into Basecamp (Garmin app) or directly into the built-in memory of the GPS itself. I fixed the problem with "Send to GPS" and it was just to download a new Beta version of the Garmin Connect software.
After I used the GPS for the whole weekend in -5 degrees with snow, rain and some more snow it preformed really good even though it was wet and icey most of the time. Even with gloves on it was easy to use. I used some really cheap batteries this time and it told me a few times something like "battery voltage is low, you should switch to lithium batteries to keep running", it never died though, just giving you a heads up that you're using shitty batteries 🙂
This is a really nice GPS if you can afford it because it's a little pricey but it's most definitely worth every penny!